Traveling with a disability
Traveling, and in particular, flying can be very difficult for people with disabilities. Especially if traveling by oneself. I know this first hand, but I must say that Air Canada customer service is always at the top of my list of choices. Their customer service people always provide me with excellent service.
Checking in at the gate and receiving boarding assistance to get on and off the plane is provided by actual Air Canada staff and I've never had any problems. However, for assistance beyond the plane for things like fetching my luggage and finding a taxi a different company provides this service. This usually is provided by an outsourced company, who are paid by Air Canada. Again, for me personally, I always had good experiences.
It could be that I was lucky, but I don't think that is really the case because for a period of about 8 years I traveled frequently on my own while attending and speaking at various conferences. It may be that not-so-good-service just makes for better news material.
Not a good experience
Mr. Perlman, a world-renowned violinist who has a disability, had a bad experience with Air Canada. I'm curious, considering he obviously travels here often if this was a one-bad-apple scenario.  Or, if in fact he routinely receives poor service assistance with Air Canada?
It may be that we need to hear from more travelers with disabilities who have flown with Air Canada to get a true reading on the situation. At any rate, Air Canada will more than likely want to address this complaint and may review the companies they outsource their disability service needs to more closely.
Below I have included the article posted by the National Post, on March 31, 2014.
Air Canada – Disabled Customer Service Report
Article: National Post, by Tristin Hopper, Mar. 31, 2014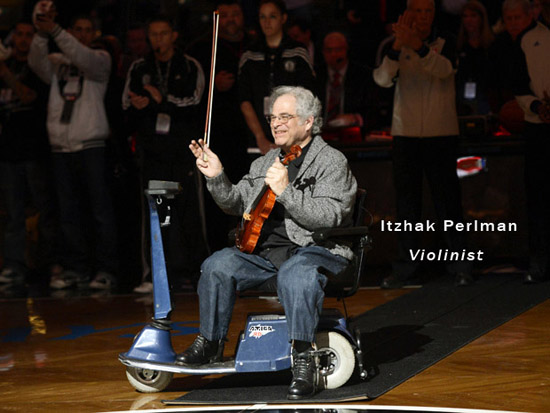 World-famous violinist Itzhak Perlman complained of rough treatment at Toronto's Pearson International Airport Monday after the disabled virtuoso said he was abandoned to lug his substantial carry-on through customs without assistance.
"I've been coming to Toronto for 40 years; this has never happened to me before like this, it's just absolutely unbelievable," Mr. Perlman, 68, told the National Post by phone from his room at Toronto's Ritz Carlton hotel.
"I felt so unwelcome, and it was funny; every place I would go there were big letters saying 'Welcome to Canada,'" he said.
Widely considered among the leading violinists born in the 20th century, Mr. Perlman contracted polio at age 4 and moves around with the aid of crutches or a mobility scooter. On Monday night, he was in Toronto to play a charity concert at the city's Roy Thomson Hall.
On Monday afternoon, the musician had just deplaned at Pearson airport and was met at the gate by a disability assistant. Mr. Perlman could not recall if the employee worked for the airport or Air Canada.
"He walked me to an elevator and said 'that's where I'm leaving you,'" said Mr. Perlman.
I felt so unwelcome, and it was funny; every place I would go there were big letters saying 'Welcome to Canada'
The violinist, riding a mobility scooter, gestured to his substantial carry-on luggage and questioned how he would get it through customs.
Mr. Perlman said the employee replied, "'Look, I'm not your personal assistant, you're not paying me for this, you're the one who chose to carry an extra bag with you."
The musician then said he was forced to navigate the airport alone after awkwardly loading up his lap with luggage: two little bags, a larger bag, his crutches and his violin, either a 1714 Stradivarius or another antique Italian violin from the 18th century.
"I was holding it for dear life," he said.
In his many other international trips, Mr. Perlman, an Israeli-American who lives in New York, said he is routinely helped at airports by either airline or airport staff.
Indeed, according to Mr. Perlman's managers, that was a stipulation of his original booking.
"We had made it very clear to Air Canada when we booked the ticket that Mr. Perlman required assistance to get all the way through customs," wrote David Lai, president of New York-based IMG Artists in an email to the National Post.
Mr. Lai added that he intended to "vehemently complain about this treatment" to Air Canada.
Air Canada spokeswoman Angela Mah said, "we are troubled with this and find this very concerning as this is not representative of Air Canada's policies in place to take care of customers with disabilities."
Ms. Mah added that the airline was "looking into the matter more closely."
Article: National Post, by Tristin Hopper, Mar. 31, 2014