Making expensive home-related purchases is fun but it is also stressful because you want to get it right. The only way to find exactly what you want is to look around, but that's not always easy when you can't walk.
I understand stores want to display all their goods; floor space is important real estate. My biggest problem in furniture stores, driving around on a scooter, is fitting between rows of sofas, beds, tables and the like without risking damage to expensive pieces of furniture – I am also always very careful to stay clear of anything made of glass.
Most stores arrange furnishings with just enough legroom for people to walk around. This does nothing for people on scooters, in wheelchairs or using walkers. For us, shopping for furniture is anything but fun.
Last week I had a completely different experience and as a result, we now have some wonderful new living room furniture!
The first thing I noticed when I entered the large store was a lonely walker by the door. I figured someone had left it there because it was too hard to fit between items. However, as I drove my scooter forward, I found aisles throughout the store were wide and items were not crammed together. It made viewing for me enjoyable.
As with many large stores, there was more than one level. A semi-elevated area housed dining and bedroom furnishings and could be accessed by a couple of stairs or by a wide ramp. It was so well integrated into the floor design that it didn't even feel like a ramp. Although, I suppose this makes it easy for staff to move large items on a dolly or cart; so everyone wins.
At a second entrance, this one had an automatic door opener, I noticed another unattended walker and two wheelchairs. It turns out the store makes them available for people to use if they get tired or need a bit of help while shopping. And just to make sure I did not miss out on any bargains offered in the upper "loft", an elevator was provided too.
Our sales attendant was also exceptional, as she lugged a number of items over for us to see how they might pair together. This was helpful, but I have to say I really enjoyed scooting back and forth.
It was clear to me this store kept the needs of all potential buyers in mind when they planned their floor layout and furniture placement. It was a pleasure to shop there; I'm certain we'll be back there soon.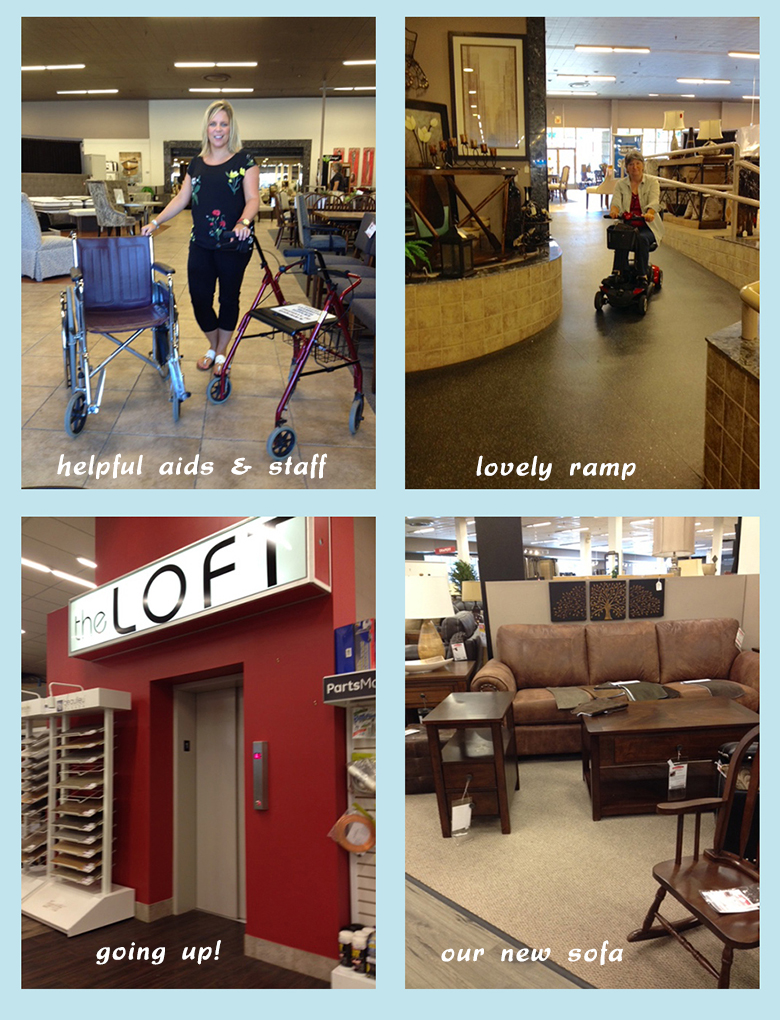 Store name: Gabriele Floor & Home Furnishings
Location: 55 Talbot St. W., Leamington, ON