There is no question that riding a bike is good exercise. However, if a person has physical limitations then challenges may be too great to achieve the motion needed to ride safely. Two critical factors are: not having the leg power to pedal and not being able to easily place the foot down on the ground for the start and stop position. The latter would apply to (non-disabled) seniors in particular.
To accommodate such riders and any other rider who wants to have a more comfortable ride there is a new bike on the block! It's called the Elev8 bike and it's a spanking new concept that in my opinion has a lot of potential. Here's what I found from their website.
The Elev8 bike's innovative design offers a one of a kind solution to the biggest challenge in bike fit, touching the ground. Using a simple lever you can adjust the seat height before you begin pedaling and at any time while riding. Controlling your own seat height on stopping and starting lets you put your feet firmly on the ground, thereby improving balance.
In the seat down position, the need to raise your leg high into the air for mounting is eliminated. Some riders find it possible to slip forward onto the bike from behind the saddle.
Once you start pedaling you can easily adjust the seat to the proper height for optimal riding comfort, joint safety, and pedaling efficiency.
Each Elev8 bike comes equipped with the following technology:
The Elev8 Seat Elevation/Suspension System– The innovative use of a Suspa gas cylinder allows the seat tube to raise and lower 7 inches with the push of a simple actuator button on the handlebar.
Gears: A Shimano Nexus 7-speed hub with internal gears makes riding simple. No external derailleurs to get caught on things! A Shimano shifter on the right side of the handlebar is simple to use and allows quick shifting between gears. A chain-guard-cover helps protect you and your clothes.
Rear Shock Absorption: A KS260 Coil Spring Shock on the rear of the bike makes for a smooth ride.
Brakes: V-brake technology by Tektro on the front and rear wheel give you smooth stopping power.
Seat Post:  Two-seat posts (2 lengths) will come with your bike allowing you to get the best fit possible. A quick-release allows tool-free adjustment and replacement. These KS seat posts also allow for tilt adjustment using a simple Allen wrench and fore/aft movement of the seat for fine-tuning.
Seat: A leatherette seat provides sitting comfort. Not too wide as to cause chafing, not too narrow to cause pressure spots. The adjustable seat attachment allows you to set the upward and downward (saddle nose angle) tilt to fit your own body.
Pedals– Flat pedals are provided and can be ridden with athletic or casual shoes. You may change the pedals to clipless technology for use with cycling shoes later if you wish.
All Elev8 bikes require some assembly when they are shipped. You will get all the tools you will need and easy to follow instructions. You will attach the handlebar, the pedals, and, wheels.  These simple steps on average take less than 20 minutes. A local bicycle shop may provide this assembly for a fee.
Visit their website HERE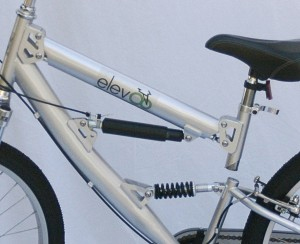 Watch the video here (there is a gentleman with Polio that rides this bike!)
Elev8 Bikes from Elev8 Bikes on Vimeo.