In the right surroundings children and water usually equals fun, especially on hot sunny days. The idea of an inclusive water splash park is a dream for a child restricted by disability. Water and wheelchairs, in most instances, is dangerous. At Morgan's Inspiration Island this is not a concern.
Over the past 30 years, I have given talks and advocated to encourage communities and businesses to embrace the meaning of inclusion. Obviously, I want to live in an area where I can come and go in a manner that isn't decided by accessibility restrictions. Although we've come a long way, it has often been at the speed of a turtle.
Don't get me wrong, there are many businesses who do integrate inclusion as an added value. Take for example the accessibility features of Disney Land and cruise ships. Access is blended in after the fact and is not marketed as the big ticket. Those with special needs still need to do a lot of research before they make plans to go places. Access cannot be taken for granted.
Inclusive Water Splash Park
The Hartman Family Foundation is taking inclusion to a whole new level. They've busted all the barriers with the creation of Morgan's Wonderland. This children's theme park located in San Antonio truly leaves no child behind.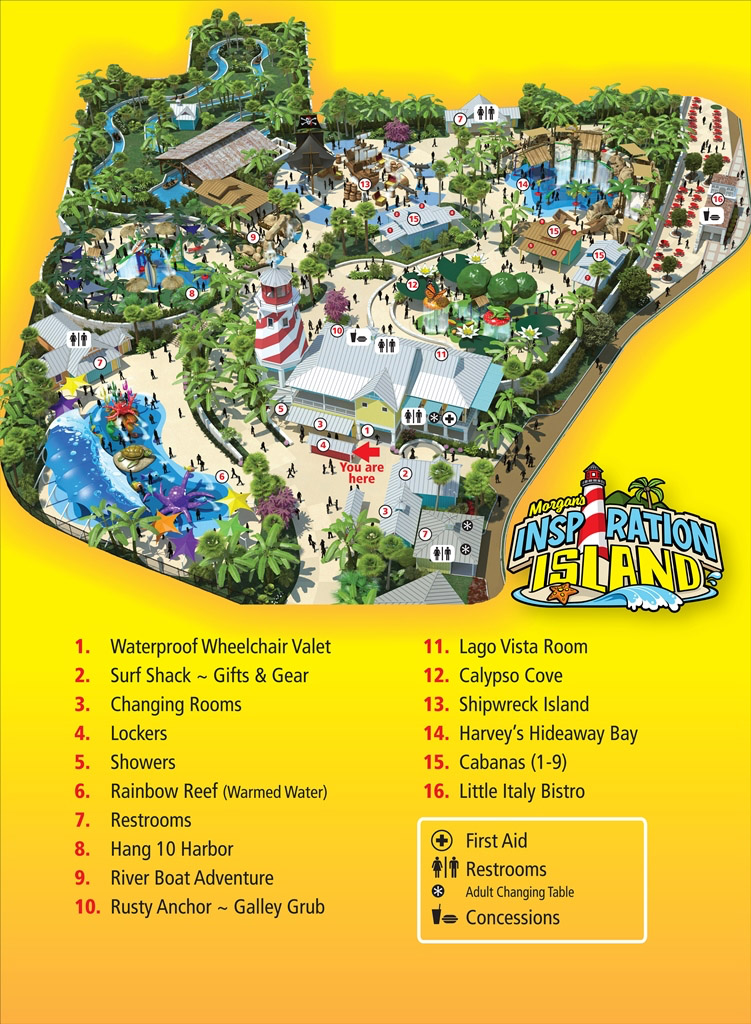 A completely wheelchair-accessible ($34 million dollar) park features more than 25 elements and attractions. Including rides, playgrounds, gardens, an 8-acre catch-and-release fishing lake, 18,000-square-foot special event center, 575-seat amphitheater, picnic area, and rest areas.
Gordon Hartman, CEO of the foundation sold his lucrative homebuilding business. He and his wife, Maggie, then set out to build a children's wonderland. Inspired by their own daughter, Morgan, now 23, who has special needs.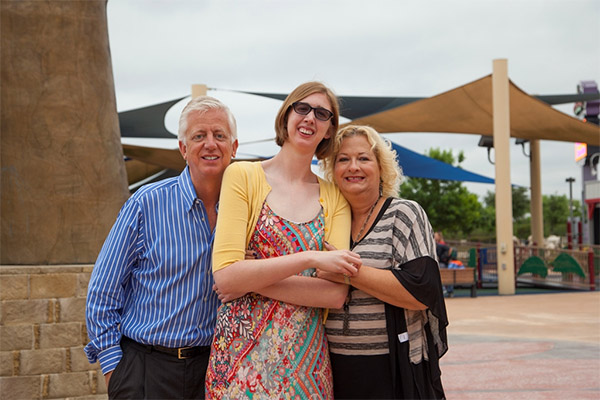 Morgan's Wonderland is a wildly successful non-for-profit that welcomes millions of guests from 65 countries. It is affordable, keeping entry costs free to those with special needs and nominal for accompanying family and friends. Tours, education, special events, all with inclusion front and center.
In fact, inclusion is the Hartman's guiding principle, and with that in mind, June 17th is the day slotted for the grand opening of yet another phase of the park, called Morgan's Inspiration Island.
Inclusive Water Splash Park
Here, wheelchair guests will be able to visit a splash park like never before. The details of inclusion are remarkable. People who use electric-powered wheelchairs would usually be excluded. Let's face it, we all know water and electricity are not a good combination. At Morgan's Inspiration Island this is not a barrier because guests have the opportunity to privately transfer out of their electric chairs into waterproof AIR-POWERED wheelchairs.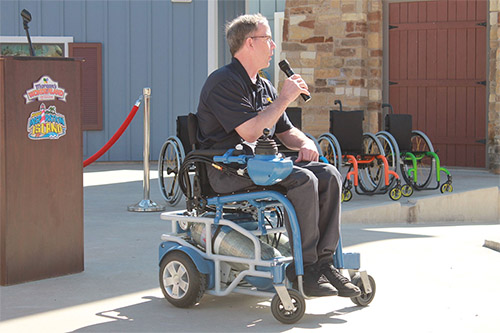 Morgan's Inspiration Island is the world's first inclusive water splash park costing upwards of $16-million to build. Its multi-acre attraction enables family members, regardless of age or ability, to cool off and beat the summer heat. It features five tropically-themed splash pads, one of which fosters warm watered for those with sensitivity to temperature.
There is a River Boat Adventure and many support facilities.
Here are some of the highlights
Whirling Wonder is a five-and-a-half-story-high Ferris wheel that is a fully wheelchair-accessible ride.
Wheelchair Accessible Ferris Wheel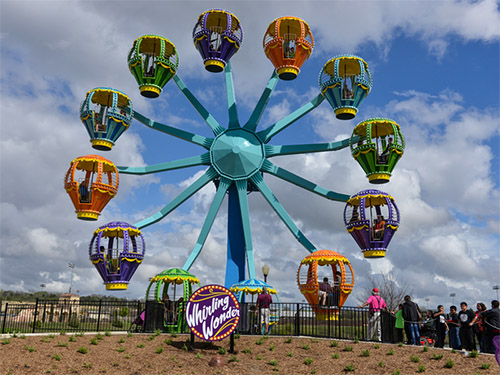 Rain Tree Splash Water Pad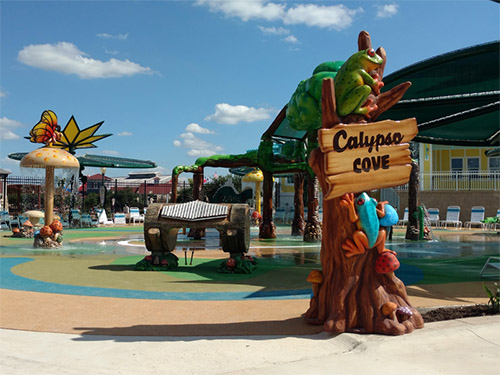 Warm Water Reef Splash Pad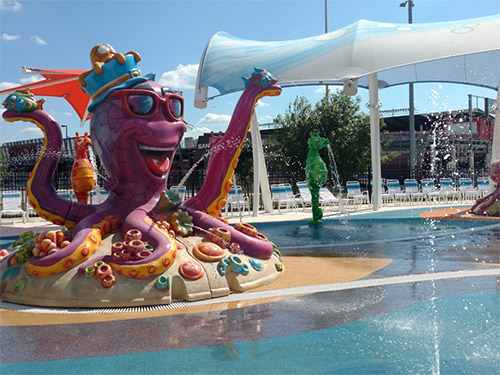 Accessible Pirate Splash Pad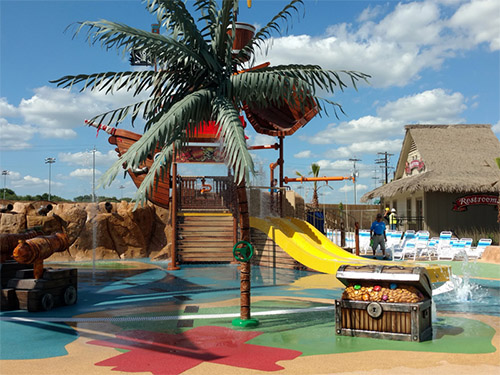 There's More
"The Magic of Friendship" is a new interactive variety show in which guests learn the art of making friends and all about inclusion through the power of magic. The production stars Morgan's Wonderland puppet favorite named Hartman and puppeteer-magician, The Astonishing Mr. Pitts.
Leading an ever-expanding entertainment lineup is "The Wonder Squad". Four, Morgan's Wonderland superheroes. Morgan, Rocket, X-Ray, Jette and Uno the super seeing-eye dog. The dynamic four do not let their physical or cognitive special needs hold them back.
The costumed Wonder Squad shows how disabilities can become "super abilities" as they interact with park guests. The phenomenal foursome happily appears at hospitals and other venues throughout South Texas upon request.

Butterfly mascot Joy. Along with sidekick Professor Von Flutterwing, Joy makes appearances at Morgan's Wonderland and at community events. The multi-colored costumed character greets guests and poses for photos. Butterfly theming throughout the park reminds guests that, just like butterflies, individuals with and without special needs can emerge from their "cocoons" and soar to new heights of achievement.
This park is inspirational. I wish I was a child again!
Check out this video talk by Gordon Hartman.
Morgan's Wonderland nicely compliments the concept of future playgrounds that we previously posted.