There are many times in life when we feel lost and unable to move forward. This is particularly apparent when a chronic illness is presented to you – when the idea of looking forward to the future, can often feel really bleak.
Finally A Diagnosis
Pamela Brown Wilkinson has experienced frustrating health symptoms since the 1970's, at a time when she was juggling family life while working as a high school teacher and counselor.
Some thirty years later she required an MRI and an MS specialist finally diagnosed her with Multiple Sclerosis. Suddenly her mysterious longstanding symptoms made sense.
Suddenly her mysterious longstanding symptoms made sense.
Fortunately for Pamela, she has a mild form of MS that has not impeded her physical mobility.
However, when she was first diagnosed Pamela felt frightened because she had a friend with MS who, as a result, lost a great deal of mobility and independence. This was not the future vision Pamela had imagined for herself.
Time Out
Everything at that point came to a halt and Pamela took a full year to evaluate her life, forcing her to look inside and question her life's direction.
This led her to seek out programs, books, and courses, to explore her aspirations for personal development. This new direction helped her to listen to her own intuition and find a place of inner self-harmony.
Pamela moved toward her interest in the human condition and from then on, immersed herself in studies with well-known teachers like the late Dr. Wayne Dyer.
Transformation
Excited by the results of her own transformation, Pamela longed to work with others to help them discover their true potential.
Now, as a certified Transformational Coach with the Life Mastery Institute Pamela offers life-coaching and has also developed her own programs and workshops. Her previous career in education helps her to determine what works and what doesn't. Pamela is also trained as a facilitator for the 8-week Conscious-Aging workshop series.
Rock On
Most coaches will tell you once they start coaching individuals and groups they see common problems and trends. This is abundantly clear within the 'baby boomer' population and Pamela realized she knew these problems firsthand. With this insight, she has been able to use her workshops and talks to help people move forward when their 'old self' would rather give up.
The aim of her book, Rock On – 5 Secrets To Find Fulfilment & Thrive At Any Age is to remind people they are done yet!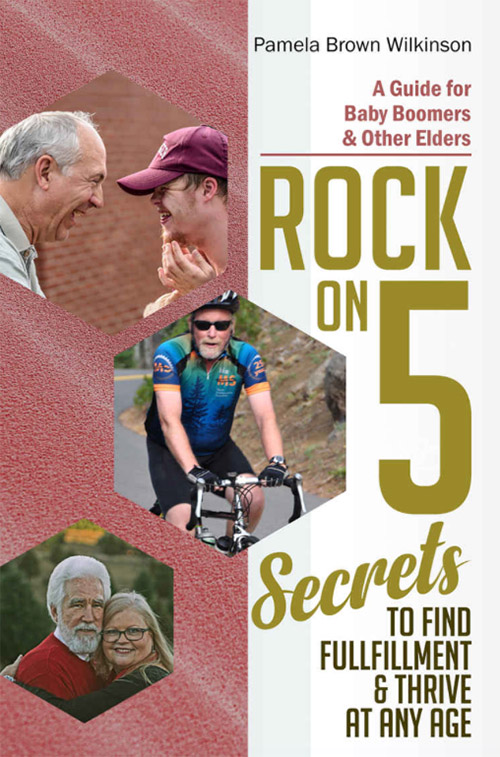 Each of the five sections in the book, outlined as goals, focus on strategies to redesign specific areas of life and move past limiting beliefs. Examples and exercises encourage readers to move beyond reading and begin to apply what they are learning in their lives.
One topic I find worthy of deep consideration is the concept of legacy. Taking the time to think about how you want to be remembered is important and can go a long way toward peace of mind when the time comes. It's not meant to be morbid but rather a realization that we are mortal beings.
Pamela is quick to remind us even when unpleasant life events occur, they too can provide a rich opportunity for deep learning and self-transformation.
Learn more about the book on Amazon
USA HERE
CANADA HERE
Pamela Brown Wilkinson
Website https://authenticlifecoach.net