Show me the moo…ney
Basically, show me the moo…ney  is what a business says to potential customers. In response, as a consumer, I say, Ok… will do …provided I can get in your store to do my shopping and pay. We all know businesses are in business to make a profit so it would be sensible for them cast a wide net to reel in as many shoppers as possible.
As a rule, I do not purchase from stores that are not accessible. If you feel inclined please join my crusade and make a statement about a lack of access. (I digress) Nor do I ask, or send someone on my behalf to makes purchases from an inaccessible retailer. Every now and then though my well-intended boycotts are challenged. Let me give you an example.
Why hide accessibility?
Niagara-on-the-Lake is a fashionable upscale tourist shopping location in Ontario. All their stores call out – show me the moo..ney. Whenever we entertain family from the UK they like to visit Niagara Falls. They never seem to tire seeing our pond with its giant waterfall. However, there is one store in particular in NOTL that appeals to my partner's grown children. The COWS store sells t-shirts and other items are pretty darn funny and moo-velous.
On the outside looking in
Unfortunately, it is not accessible for me to get into from the front entrance. Grr… On two previous occasions, I waited outside sitting on my scooter while everyone else went in to shop. Actually, this occurred at most of the shops, so I spent most of the day on the sidewalk. I felt degraded and excluded and it is not something I would normally do, but hey, it's very special when people come from so far to visit. Life demands compromises.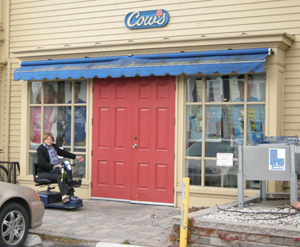 When it came to deciding on Christmas presents for said partner's children, this store seemed a likely option and so I was prepared to compromise once again. Imagine my surprise when after a trip to the public washrooms, located behind the main shopping street, I noticed accessible entrances to three stores one being the COWS!
Of course, we used that entrance and made purchases to the tune of $300 dollars. I asked a sales person why they did not have a sign on the front window to let people who use wheelchairs and walkers know they could access the store?
The youthful salesclerk didn't know but agreed it "might" be a good idea. I found it odd that all three stores did not have any signage at their front door entrances to indicate they had an accessible option. What's up with that?
It's frustrating enough not to be able to access the front door like everyone else, but it's equally frustrating to know that I could have accessed these stores in the past.
Get with the program people.
It's simple – if you want my shopping dollars or show me the moo…ney then for goodness sakes let me know 'how' I can get into your store.