Pain in the butt
When you hear the phrase "pain in the butt" you might think of your employer, brother, annoying co-worker, or someone else. However, if you live with a disability, one that prevents you from standing, you would think of pressure sores. A new device, Smart-e-Pants, aims to address this difficult pain in the butt.
Thousands of people die due to pressure sore complications every year. And, Canadian healthcare spends upwards of 3 Billion dollars a year treating patients. Pressure sores are dangerous once they become ulcerated and infected.
What is a pressure sore?
A pressure sore or ulcer is an area of tissue that includes skin, muscle, fat, and sometimes bone that breaks down when pressure builds. It's difficult to prevent pressure sores on the buttocks when you have no choice but to sit or lay on them when movement is not possible. Once the infection starts it can lead to blood poisoning and possibly death.
Who is at risk?
People who are paralyzed because of a motor vehicle accident or illnesses such as strokes, or MS are vulnerable. In fact, anyone who spends time using a wheelchair or scooter is at risk. Long-term hospital patients of any age who are bed-bound are also prone to bedsores.
Not being able to get up due to weakness or illness, requires people to sit and lay on their buttocks. Patients such as these have an 80-per-cent or higher chance of developing a serious sore during their lifetime. And, if it happens once, it's much more likely to happen again.
Sadly, Superman actor Christopher Reeve, died in 2004 due to complications associated with a pressure ulcer infection.
New interventions
The Alberta Innovates Health Solutions and Alberta Health Sciences have worked together and arrived at what they anticipate will be a successful solution for patience. With the goal to prevent pressure sores, they have created a product called, Smart-e-Pants.
These are designer-type undergarments that house electro-stimulators that function like a tens machine.
A tens machine is a small device that provides electro stimulated pulses through thin wires and patches placed on the body. These are frequently used in physiotherapy settings to treat muscle and nerve injuries.
Within the Smart e-Pants there is a mesh panel across the bottom of the underwear where a small patch, similar to that of a tens machine, is inserted between layers of the garments anti-bacterial material. The patch is attached to a small device, which can be hooked on the waistband. The device fires gentle electrical impulses across the gluteus muscles every ten seconds. The pulses cause small muscle contractions and this reduces the constant pressure that produces bedsores.
Smart e-Pants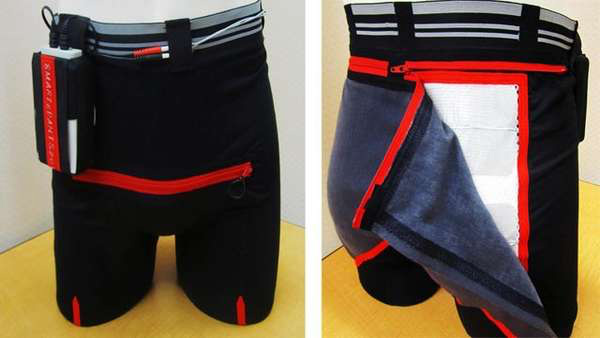 Smart e-Pants – front and back view
Benefits
The stimulation is meant to mimic the natural fidgeting movements that people with healthy nervous systems perform subconsciously to alleviate discomfort while sitting or sleeping. Blood flow improves and this helps to keep soft tissues healthy.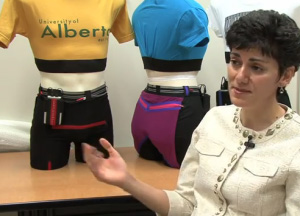 According to Dr. Vivian Mushahwar, University of Alberta cell biology professor and head of the research team creators, "most people essentially fidget every six to nine minutes when seated, which relieves stiffness and pressure without realizing it." The Smart-e-Pants stimulation is meant to provide the same benefits for people with SCI (spinal cord injury) and others who lack the ability to move.
There are several products aimed to help patients with this problem, such as customized wheelchair cushions, special mattresses. But, no products, to date, stimulate a required muscle contraction. The Smart-ePants is designed to help and not replace other support options.
Research funding
Supported initially by a $500,000 grant from the Canadian Institutes of Health Research (CIHR), Dr. Mushahwar and her team started this project in 2012. Clinic trails of the Smart e-Pants have been very well received and Dr. Mushahwar has been able to leverage over $1,000,000 of additional funding from Alberta Innovates – Health Solutions and the Spinal Cord Injury Treatment Centre Society (SCITCS) in Alberta.
The first research trial did not focus on the effectiveness of the underwear, but as it turns out, none of the study participants developed a pressure ulcer. Plans are now underway to move Smart-e-Pants to Phase II clinical trials, where the device will be tested for its effectiveness in the health care system.
In the meantime, Dr. Mushahwar launched a spin-off company, called Prev Biotech, Inc., to commercialize Smart-e-Pants, so it will be ready for sale once the necessary clinical trials are completed. To find more information on product updates and potential sale options keep an eye on Prev Biotech.
Smart e-Pants is a product bound to improve the lives of many people.
Here's an interesting video that explains the Smart e-Pants in greater detail.